Folly 'Zicht Zag' gets a second life in the ruins of the burnt down Juliana Church in Rotterdam. During South Explorer Rotterdam on November 8, 9 and 10, 2019 there is a possibility to visit the location, November 9 at 4:00 pm is an official opening.
Second chance after the fire
Fate strikes on August 6, 2017. The Juliana Church on Heijplaat, Rotterdam, burns down. What remains is an emptiness surrounded by blackened walls flanked by the still-standing spire. First of all a tragedy, the intended plans to convert the church into homes and studios have gone up in smoke. Secondly a chance. But how?

The square
The former church hall has been stripped of its closed character. The thick brick walls with remains of stucco, molten stone, deformed steel frames and ash remains enclose a new public space; the Julianaplein. The raw walls give atmosphere and at the same time tell the story of the church. The spire indicates the location in the urban fabric.
A spatial gift
We therefore see Julianaplein as a spatial gift, a publicly accessible space, which does not prescribe what you should do there, but gives you clues to do something with it. At the same time, the space is sufficiently closed to obtain its own identity. A new village square, without cars, for the residents of Heijplaat. Julianaplein, for example, already offered space for a film festival, a temporary restaurant and various other events. As a continuation of this series, Julianaplein will soon be transformed into an exhibition space. From November 8, two folly's will be exhibited here: Zicht-Zag and same-only more.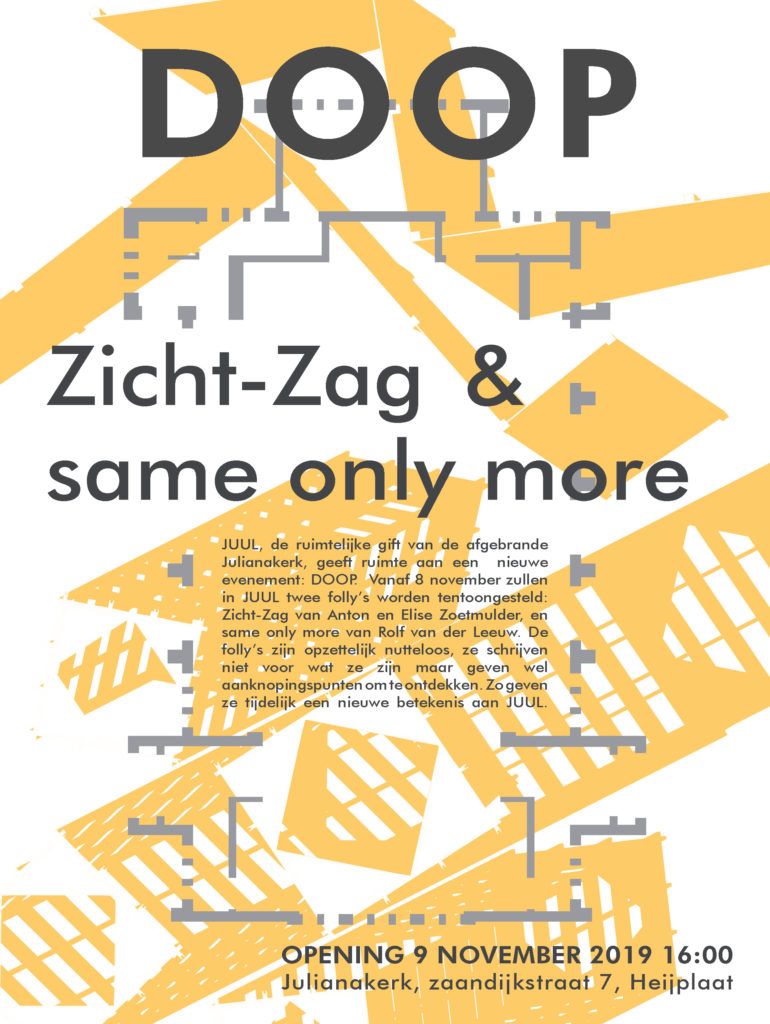 Folly's
A folly is an intentionally useless structure. It does not offer a function, but it does create wonder and therefore an incentive to discover. The folly does not prescribe what it is, but it gives clues to do something with it. The folly's temporarily give new meaning to Julianaplein.
Zicht-Zag and same only more
There are two folly's on Julianaplein. The Zicht-Zag, a folded structure of walls designed by the ZOETMULDER architectural office. And same only more, four towers designed by Rolf van der Leeuw. Both folly's were previously shown at Folly Art Norg 2019 and have been reworked for this exhibition to enter into a new relationship with the burnt-down Juliana Church.
Opening Saturday, November 9
Come and discover Julianaplein and experience the folly's at the "Folly's on Julianaplein"opening party on Saturday, November 9 from 4:00 PM. Or during South Explorer Rotterdam on 9 and 10 November 2019.